Where We Are
Where We Are
We have labs and offices in buildings C and K of the LMU Grosshadern High-Tech Campus (Departments of Chemistry, Pharmacy and Biochemistry).
Public transport: take the U-Bahn (U6) to the Großhadern stop, then a 7 minute walk west along Würmtalstrasse. Here are links to a subway map of Munich and to the greater Munich public transport planner.
Car: Parking on campus is restricted to university staff. Here are the off-campus parking possibilities close by.
If you get lost, phone us or come to the ground floor of Building C where the campus security & information service has a reception desk ("Pforte").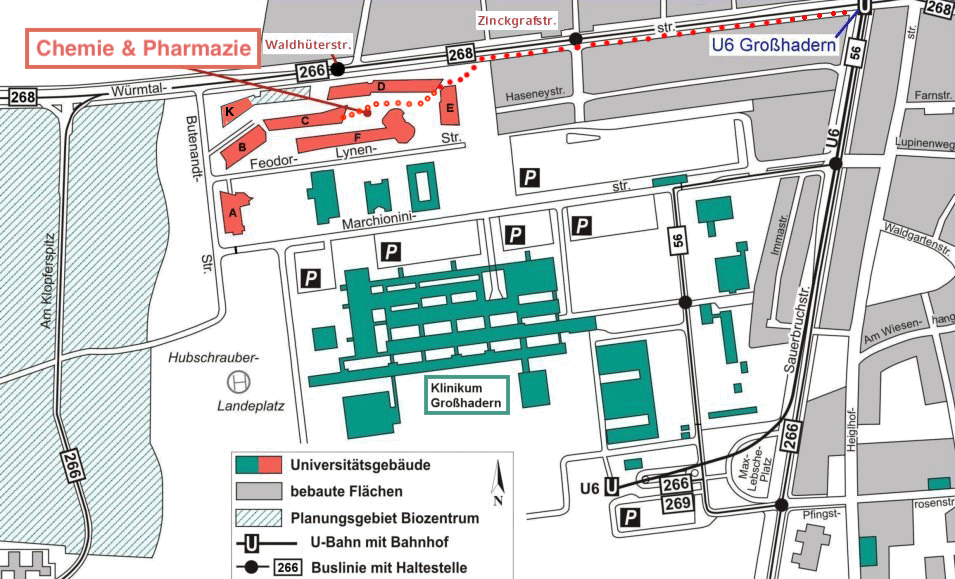 Neighbouring Institutes
We are surrounded by excellent scientific and translational collaborators. The University Hospital and several Applied Medical Research Institutes (DZNE, Helmholtz, WBZ...) are 5 minutes to the south (green buildings); the LMU Biology Department is 10 minutes' walk southwest; the Max-Planck Institute of Biochemistry is 15 minutes' walk southwest; and the IZB / Martinsried biotechnology hubs are 15 minutes west-south-west.
Outlook
The Grosshadern campus was opened in 2004 and continues to open a new building every 2 or 3 years. The latest developments are the BioSysM (or Building K) where we have our biology labs, and the ICEM Chemical Biology centre (under construction, opening in 2021). This picture from 2012 is already missing 4 of the research buildings, but the agricultural and open parklands to the north and west, with their open view to stunning summer sunsets, are still a Grosshadern classic.